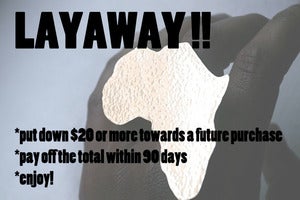 $

20.00
see something here that you can't quite afford yet?
no worries!
choose a down payment of $20, $40, $60 or $80 to place on any items (one-of-a-kind items excluded--they are labeled as such), pay off the balance within 90 days, and BAM!! The item is yours.
it's a great way to secure holiday gifts ahead of time, or more expensive pieces you might not have the cash for today, with minimal stress.
fine print/details:
please note that your initial payment goes to securing the supplies for your item. refunds are available only during the first 90 days, and there is an administrative fee for layaway refunds. during the first 45 days this fee is 20%, and during the next 45 days the fee is 40%. if the full amount is not paid and you do not reach out to make alternate arrangements in 90 days, no refund will be available.
**Layaway IS available during sales (including 10-minute sales) and using Promo Codes. Fyi. :)
Availability
$20 - 73% in stock

$40 - 96% in stock

$60 - 96% in stock

$80 - 100% in stock

$100 - 97% in stock
Pin It